You're busy building your business, and you could use more time to do that.
You know your business inside and out. You know what keeps your customers coming back, and you know which business decisions make sense.
Of course, you figured out it's a smart move to spend your time doing what you do best, and that may not include maintaining your website.
You could hire an IT guy, but then you'd need office space and equipment and supplies. You'd be stuck with social security, state and federal taxes, sick pay, and holiday pay. And then there's the responsibility of health benefits, the 401K and retirement plan.
You need 3 Bees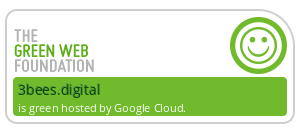 Like many of our clients, we're a family business. We thrive on helping you look good. Whether it's creating an online presence, revamping your current site, or maintaining your site, we're there to put your website to work for you.
Your website is your online storefront, and you want it to look its best. We're WordPress geeks who are willing to take over the mundane tasks on your site – daily backups, updating themes and plugins, security checks, looking for broken links, keeping the pages loading fast … the boring stuff you really want to tune out!
Besides making more time for you to spend with family and friends, handing off your site maintenance to us means peace of mind. And more quality time for yourself.
Or you could just join the email list and get my simple, plain language and WordPress tips in your inbox now and again.
Let's get your site looking great and working like a well-oiled machine – and give you more time back to do what you love to do!
Our Mission
3 Bees Digital strives to provide affordable, quality web design and maintenance services that help small businesses and entrepreneurs succeed online. We work closely with our clients to understand their needs and build custom, quality websites that are fast, secure, and optimized for search engines.
Our Vision
3 Bees Digital will be the go-to agency for small businesses and entrepreneurs who want a professional, optimized website that reflects their brand and helps them achieve their business goals.
About Vikki B
Our Chief Digital Alchemist has been building websites since the days of Homestead and Angelfire, when we searched with Dogpile, messaged on ICQ, chatted in VirtualPlaces by Excite, and didn't need to worry about writing for Google!
When WordPress debuted in 2003, she took a step back from animated gifs and backgrounds and got serious about creating real sites.
By profession, Vikki is a technical writer and is trained in plain language and information design (PLAID). Yes, she really is silently correcting your grammar. And – don't let that image of sand and palm trees fool you – her idea of a vacation is to travel to a conference or training.  She is in her element when she's learning new skills, designing strategic websites, or creating content.
Vikki is an integrator. Besides creating and maintaining websites, her superpower is connecting you with the right person or team to get any job done. She networks with the right people who will help you come up with innovative solutions for your situation.
About the team
Paris B is the go-to for social media and blog posts. She is skilled at distilling large amounts of information into thought-provoking blog posts, while her social media strategy provides a roadmap that makes the most impact for your organization.
Ciel B's refreshing writing style is sure to win your audience over! Their in-depth research makes sure every aspect of a topic is covered and inclusivity is their specialty.
48in48 2020 event volunteer
48in48 2021 Women's Build volunteer
48in48 2021 Social Justice event volunteer
48in48 2021 Global event volunteer
48in48 2022 Women's Build volunteer
48in48 2022 Social Justice event volunteer
48in48 2022 Global Event planning committee
48in48 2022 Global event volunteer
48in48 2023 Women's Build Planning Committee
48in48 2023 Women's Build volunteer